Saul Gwakuba Ndlovu – A Tribute to a great Revolutionary
A Tribute to a great Revolutionary, an Accomplished Writer and a Leader Par Excellence
SAUL GWAKUBA NDLOVU – * 23 September 1934 – ƚ 16 July 2021
Good people die every day. Yet not all of them affirm for us the goodness in humanity and leadership the way Saul Gwakuba Ndlovu did. Ndlovu breathed his last breath early on July 16, 2021 after a long illness and left a legacy of positive experiences for anyone who took time to know him- which wasn't a hard thing to do. For those of you who didn't get to know him can learn from the very positive legacy he leaves behind.
Saul Ndlovu was a professional journalist and a prolific writer foremost. He chose journalism as his career not because it paid a lot of money rather, he had a passion for writing and for serving the public. He felt that would be the best way he could contribute positively to the liberation struggle. I first met Saul Ndlovu at Zimbabwe House, ZAPU's headquarters during my sojourn in Lusaka in 1978 where he worked as the editor of The Zimbabwe Review, a ZAPU propaganda periodical that was published by the Information and Publicity Department and headed by my late father, his mentor Tarcisius George Silundika. He and my father had known each other for decades.  I was a young teenager at the time but I found Mr Ndlovu very pleasant and very down to earth. Whenever he spoke to me, he did so in Tji Kalanga, our native language which I could understand but was unable speak very well. I suspect he did that deliberately. In retrospect however, what left an indelible mark in my heart was the very evident selfless sacrifice and dedication to the cause of liberating the country from colonial rule with which he and his comrades did their work. At Zimbabwe House, the clickety-clack sound of typewriters in Mr Ndlovu's office was often heard from a distance, in fact, that's how people knew he was in. I don't recall ever seeing a secretary with him neither did many of his colleagues at Zimbabwe House have one; that meant spending long hours in the office. Some of the most senior colleagues that he worked alongside him at the time included Edward Ndlovu, Samuel Munodawafa, Frank Mbengo, Aaron Jirira, Jane Ngwenya,  and many others who made up the team that helped transform ZAPU and ZIPRA, (the armed wing) into a formidable liberation movement that it became. Jason Ziyaphapha Moyo had been assassinated a year earlier.
Throughout the '60s and '70s Saul traversed the globe frequently representing ZAPU in various international fora, sometimes attending professional development sessions and at other times asked by Dr Joshua Nkomo, the ZAPU president to lead an advance team ahead of political negotiations on what was then known as the Rhodesia question. Back in Zambia, other than The Zimbabwe Review, his first and most conspicuous publication was a book titled, "Zimbabwe in the Struggle," a collection of photographs and stories that captured the various stages of the armed struggle including life in ZAPU's refugee camps in Zambia. This work was done in collaboration with another one of his liberation time colleagues, the late photographer, Zenzo Nkobi who also worked in his department. It is also important to note that Cde Ndlovu affectionately know also served as the ZAPU Representative in many countries on the African continent and in Europe. From that time on, also acting in his capacity as a seasoned historian, politician and anthropologist, he wrote many books, opinion pieces and other types of publications for which he received little or no financial compensation.  It takes a person with extra ordinary qualities to continue doing that.  He worked tirelessly right up to the time he fell ill in recent years. In my last full conversation with him, he was putting the final touches to his latest book which he thought the title would be, "The History of Zimbabwe's Liberation Struggle."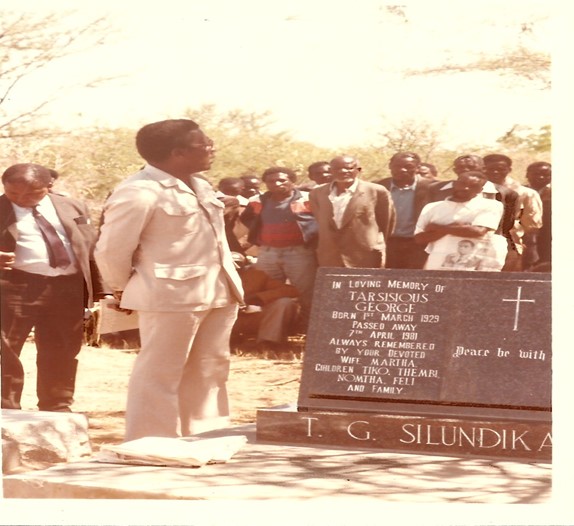 Saul Gwakuba Ndlovu giving a speech at the Silundika family homestead at Gala Village in Bulilima District during a memorial service held for the late TG Silundika in 1982.
The People Person
Saul loved people, and was willing to do the hard work it takes to build relationships even those who were political adversaries. He never prejudged anyone and often spoke his mind in an articulate and cordial manner that often left his critics disarmed. Most people who interacted with him would readily agree that he was a man of high intellectual abilities. He was also a proud promoter of his Kalanga cultural heritage. The Silundika family will forever be grateful for the work he did in the establishment of the TG Silundika Cultural Community Centre, the TGSCCC located the family homestead at Gala, in Bulilima District. In 2014, he was invited to speak as the guest of honour at the ground-breaking ceremony there, exactly 32 years since he last visited the Silundika homestead in the post- independence era. In 1982, he and the late hero Sidney Malunga led a ZAPU delegation to the Silundika homestead for a tombstone unveiling ceremony, exactly a year after the death of his former colleague and mentor. In recent years, Saul became one of the most sought-after historians in the country, he was often invited to speaking engagements and sometimes even requested to intervene in family disputes.  That goes to show the level of trust and confidence people had in him.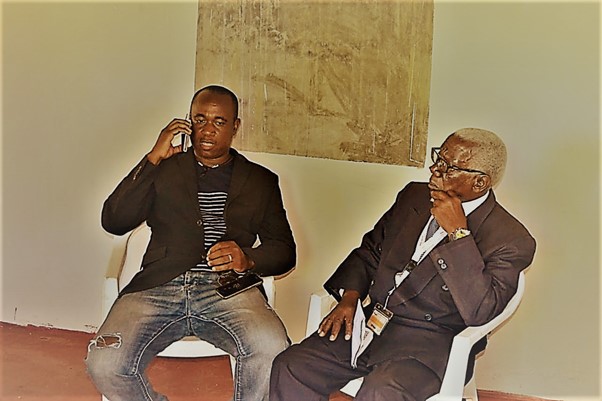 Felix F Silundika and the late Saul Gwakuba Ndlovu in a live radio interview during the launch of TiBaKalanga Cultural Festival at the TG Silundika Cultural Community Centre in July, 2017.
The Family Man
If you asked Saul what his greatest accomplishment was, the answer was not likely going to be any of what is mentioned above. His answer would be "the joy of being a father, a grandfather and a great grandfather." Saul was a loving parent who cared deeply about all his children, his nieces and nephews and all his relatives. He never missed an opportunity to counsel and help his children take their place in society as responsible and God-fearing citizens. In recent years, Saul and his loving wife MaMpofu always reserved at least one day a week which they dedicated to prayer as a family. I feel lucky to have had the honour of joining them on a few such occasions at their home in Trenance surburb of Bulawayo.
Back in 2013 when I asked Saul to contribute a narrative of the 20 odd years he spent in exile with my father for a biography which we later published, his reply was "when do you want it?" How can one get over losing a person who has always been there for you and your family regardless of the circumstances? For all who were lucky to have met Saul Gwakuba Ndlovu, I know the pain of losing him will never leave us, but perhaps it will ease with time. His life, his energy, his influence is inextricably linked to all of us. But we can all take comfort in that he is no longer in pain.
Rest in peace
Lala ngokuthula
Muyizele nekunyalala Saul Gwakuba Ndlovu.
By Felix Felisizwe Silundika
Stichting The Silundika Family Foundation