By Felix Felisizwe Silundika
For generations, ethnic Kalanga people have believed the Manyangwa mountain shrine, situated in a remote area in southwestern Zimbabwe to be the place where the rain god resides.
I have always had a deep interest in folklore and customs of indigenous peoples especially of the Kalanga people. Fortunately, Tjehanga village, which is approximately 25km from Plumtree along the Plumtree-Ndolwane road, is a mere 35km from my ancestral village of Gala. This gave me a rare chance to observe cultural practices largely unknown to the world.
The Dube family has lived at the foot of the Manyangwa Mountain for generations and are the recognized custodians of the shrine. It is only with their permission and guidance that visitors can gain access to the shrine.
According to the Kalanga, every year spirit mediums known as hosanna make a pilgrimage to the site to perform traditional rituals and pray for rain. The annual pilgrimage by the spirit mediums usually takes place in September prior to the rain season. Some pilgrims travel from as far as Botswana.
Growing up in the area in the 1970s, I used to listen to anecdotes about the shrine, normally told by adults with both adulation and respect, but never a topic for children to discuss alone.
There was always an unmistakable inference in those stories that any discussion about the shrine must be handled with dignity and respect.  Once or twice a year we would see the pilgrims pass by our homestead making their way in a procession to the mountain, often singing and marching to a distinct rhythm of a drumbeat played by a hosanna who normally walked in front.
Little did I know that decades later I would be making my own journey to the shrine for reasons I will try to explain.
The custodianship of the shrine has traditionally passed on from the patriarch to the first born son, but can also be passed on to another son by special arrangement. Such is the case with the current custodian, Mr. Gatton Dube, who is the younger brother.
Nduwe, the heir apparent is understood to have abdicated this responsibility in favor of his younger brother due to his lack of interest.  The younger Gatton therefore accepted and took this and all other related responsibilities without hesitation.
Custodianship of the shrine comes with many leadership responsibilities in the community.  Individuals, homesteads, business and many other establishments often seek the spiritual blessing of a person of this stature.  He is a venerated citizen who wields significant power and respect in the community.
It is in this context that I was approached by my village elders with a stern instruction to make the pilgrimage without fail.
"You Felisizwe, son of Silundika," said Gala Village head Mr. Thulani Dube, "now that our cultural centre has been established, it is imperative that it is reported to the Manyangwa shrine in order for it to receive blessing of the ancestors so that it can thrive."
Similar sentiments were expressed by other elders in my community – enough to realize I should begin preparations for the pilgrimage. That date was set and the village head agreed invite the local hosanna, Wongo Ncube, or MaNcube as she should be called (according to the dictates of our Bantu culture).  She hails from the nearby village of Kungubo and is also the daughter of a legendary hosanna, the late Mhlolo Ncube. By virtue of her being a hosanna, she would lead the delegation. That delegation needed to include an elder from the Silundika family, Mr. Tjabumba Silundika Sebele.
So, the village head, myself and my uncle Tjabumba set out early in the morning on the 10th of August to Kungubo village where we picked up MaNcube. We drove at a very slow pace due to road conditions past the majestic twin mountains called Hou Mbili (two elephants) and made it safely to Tjehanga village, the locational of the shrine.
I had been advised that such a trip had to take place early in the morning for best results or else we would find the place full of people and wouldn't be able to get the attention we needed. As we approached the village, I noticed that most of the homesteads in the area (consisted of both mud huts and modern buildings) were all immaculately kept.
I saw two mountains to our right ahead of us and two homesteads to our left as we drove down a very narrow strip road leading to Manyangwa. MaNcube gently guided us to our homestead and insisted we leave the car as far away as possible.
We politely disembarked the car, leaving it under a tree while we followed our guide to a spot in front of the homestead where there were stones neatly arranged in rows.  That's where we had to wait, in a kneeling position. As we arrived, a tall gentleman had walked from the adjacent goat pen near the entrance of a very clean homestead with a wooden fence and ornamental plants around it.
"That's him, Gatton Dube, the custodian of the Manyagwa holy shrine," whispered MaNcube as we began to kneel by one row of stones in front of us. "Take your shoes off," she continued.
MaNcube now adorned a black gown and donned a head band made of beads. She is a frequent visitor to the shrine for consultations and is familiar with the protocols. We felt honored to have brought her along as an elder and a hosanna – she made our visit a lot easier.
As soon as we removed our shoes, MaNcube then led us with a soft rhythm of hand claps with our heads bowed and looking at the ground. She was talking at the same time, softly speaking in our native Kalanga and sometimes using very complex terms that I couldn't understand despite my level of education and local knowledge.
We grew up speaking Ndebele with a Kalanga accent. Ndebele is a dialect of the Zulu language which came with the invading armies of Mzilikazi back in the 19th century. It is the most widely spoken language in our area. However, the people belong to the Kalanga ethnic group, an indigenous culture of people who have inhabited the area for generations, going back to the 11th century.
The man inside the homestead then murmured something to signal that we could now we make our way inside. We did, with MaNcube leading the way through a maze of meandering stones ending near the shade under which our host sat. We sat in front of him, again in a kneeling position. I didn't know what to expect as this was my first experience.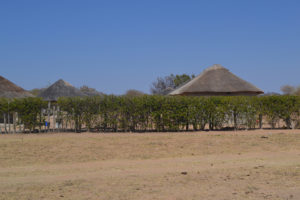 The man smiled and welcomed us all "home." He then turned to MaNcube and the village head and asked how he could be of help to us. He was very familiar with our companions and that made me and my uncle feel very comfortable.
At that point MaNcube then went straight to discuss the main reason behind our visit.  Upon hearing that, our host asked to be excused for a minute. Apparently he had been overcome by emotion. It turned out that he had already heard about our efforts at our centre to revive the Kalanga culture and was deeply moved.
Mr. Dube returned, now wearing a traditional hat made of animal skin. He was overjoyed. He pledged his support for the cultural centre project and vowed to do all he could in his powers to make the planned TibaKalanga/We Are Kalanga Festival in July 2017 a resounding success. He promised to send his two adolescent boys to perform at the festival.
After the formalities had taken place, Mr. Dube then invited us to meet his family. His wife and the two boys were very pleasant and even gave us a pumpkin and a type of melon which is used to make inhopi, a traditional dish that is served with sour milk but can also be eaten without a side dish. We thanked Mr. Dube and were soon on our way back, feeling blessed and upbeat about the future.
There are no words to describe the sense of inner satisfaction after I made this pilgrimage and met one of the most important figures of our community.
I feel truly indebted to the elders who made it a point that I understand the intricacies of our Kalanga culture, at least this aspect of it.  I equally thank those who accompanied me on this transformative journey, and above all, the custodian of the holy shrine for his hospitality and pledge to support for our efforts to preserve our Kalanga cultural heritage.
Images: Wongo Ncube, a hosana with Felix receiving a pumpkin form Mr Gatton Dube, the Manyangwa Holy Shrine and Mr Dube's homestead.